Accessibility
We chose and designed our office to be as accessible as possible.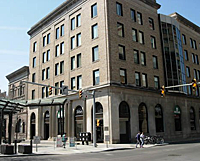 The building we're in, TC3 Tioga Place, is accessible to people using wheelchairs, with a level entrance, elevators, and accessible restrooms on the 5th floor.
Our office furniture is designed for people of a variety of sizes and weights, so whether you're large or small or in-between, you can rest assured that our furniture will accommodate you.
Our office location is in downtown Ithaca on the north end of Bank Alley on the pedestrian Commons. It's accessible however you travel, whether on foot, in a wheelchair, by bicycle, by bus, or in a car.


We're right across the street from a sheltered bus stop (Seneca @ Commons, in front of the Seneca Garage) which is a main hub location for pretty much all of the TCAT buses that go downtown.
If you drive, you can find nearby paid parking in the Seneca Garage or on a street, or you can park for free a little further from the core of downtown to the north in the Fall Creek residential neighborhood.
Bicycle racks are located right in front of our building on both sides of Seneca St. and in the Seneca Garage.
Directions
The entrance to TC3 Tioga Place is on Bank Alley (the North Tioga Street portion of the Commons), between the entrance to the Tompkins Center for History and Culture and the corner entrance to M&T Bank. When you come into the lobby of the building you can take either the elevator or the stairs up to the 4th floor.
When you reach the 4th floor, it may look like you're in the wrong place, since what you'll have entered is the waiting room for the Brown & Michael's law firm, and it looks like they occupy the whole fourth floor. But our suite is on the fourth floor too; just turn left, go through the double doors and past the restrooms, and Suite 401 is at the end of that short hallway.